"We make a living by what we get; we make a life by what we give."

Sir Winston Churchill
One of my favorite 13 year olds just returned from a week in Florida with her family. They were sent there per her Wish from the
Make-A-Wish Foundation
which gave them the trip of a lifetime and the memories to last several.
We spent over an hour this morning looking at the pictures captured - the sunshine, the theme parks, water rides and dolphin-feedings, happy faces under hat brims and bare feet in amazing blue water, sweet horses giving rides, carousels, cartoon characters giving hugs, elaborate villas, ice cream shops - and took school this morning very slow and relaxed. She had so much fun. She wants to go back to Florida and stay there - presumably with all the wonderful gifts of the last week continuing into the unforeseeable future.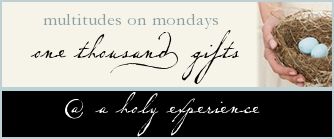 Grateful for gifts: #123-134
123. Henri Landwirth, founder of
Give the Kids the World
, and his miraculous life, whose survival of the Holocaust contributed to his desire to bless the kind of children who did not survive things like that.
124. safety through a lot of car and plane travel, and being across the country for a week
125. Renee and Laurie, the ladies here who gave so much time to make this wish come true
126. a week of relaxation away from the daily schedule
127. four days in my own little
Valley of Elwy
with my family
128. the happy little blid-ip my phone says when a text comes in
129. how warm a laptop feels on a super-cold morning
130. my mom's boxes of food she donates to our little house of girls
131. pasta with homemade cheese sauce
132. fog in the morning
133. sun in the afternoon
134. tea with honey and raw milk